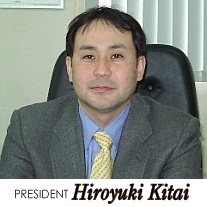 Building up customersf trust based on thorough quality control
K M Seiko is manufacturing screws, nuts and metal forged parts.Our main products are for automotive industry, and the sales is increasing 5|10% yearly, including monthly output of 2.5 million pieces of airbag parts.
The companyfs most prominent feature is the warm forging technology.
It processes the metal parts with the temperature around 400 C, so-called the medium temperature between cold and hot forging.
Through the technology, stainless steel or titanium can be processed into complicated shapes equivalent to hot forging, maintaining the property of each metal
The warm forging technology on stainless steel has been brushed up by Mr. Masatsugu Kitai, chairman who is the predecessor president.It contains the unique know-how on temperature control and mold building.
We established the technology of warm forging on stainless steel in 1975.Since then we increased the sales performance by the large scale production of metal parts for automotive industry as well as by the export to U.S.housing industry.
In 1980 latter years, our big customers who are related to housing industry in U.S.A. changed the source to China and Taiwan due to the appreciation of Japanese yen. To go newly into the domestic screw markets for housing,
we set up the delivery center to make small lot shipments in 1991.
On that time economic bubble bursted out, and our sales amount plunged to two thirds.
Mr.Takato Kitai quitted Mitsubishi Heavy Industry Co., Ltd and joined us.
He contended with the improvement of Quality control. He holds belief
g Because screws are consumed in a large quantity, it is most important for us not to make defective products.h
Up to that time, the screw performance test was made at the final process only.
He brought in the inspection to the production process and established the manufacturing system which produces no defectives.
gWe put in double time and double effort of our competitors for the inspection during the production procedure.
It pushes up our cost, but we are earning trust from our customersh
By building up the trust from the domestic housing enterprises,
our performance recovered gradually, and could reach the biggest sales of about 2,600 million yen as of the term September 2007.
We have been emphasizing the activity on transfer of the technology in cooperation with NPO gLocal Base Technology Transfer Plazah since2006. With two yearfs accomplishment, our staff is making voluntary efforts on
technology transfer and products development.
Manufacture of large diameter drill for construction by cold forging is in process now. We are endeavoring to develop new nuts for automotive.
Based on the strict quality control, young man powers are trying to develop the products leading the next generation.